About
I started off purely by accident - I bought a Roland Juno Stage synth in 2010. I couldn't play it as a synth - I used it in a commercial way but started to learn to play it differently. I spent a year getting used to this complex machine.
As time passed people were getting to know me as a synthist but I needed to progress more. I was asked if I was interested in supporting Erasure as a support act. I jumped at the opportunity but after accepting I received a phone call regarding Andy Bell, saying he wasn't well and Erasure had pulled out. I was asked if I would support another group but I turned the gig down, a real shame, but it gave me more time to crack on learning synths.
A couple years later I was asked to support UK Subs. I spoke to Charlie a few times but unfortunately my mother got ill and, while looking after her, I lost his number. I went back to the drawing board and went to St John's University to rehearse my music and I had a guy called Richard Lawrence as my tech guy. Unknown to me at the time he told he was Rick Wakeman's sound engineer and had also worked as Gary Newman's sound engineer. He gave me a lot of good advice over the months I was there.
After that I moved on to Old Chapel Studios in Leeds. I spent some time rehearsing there and met up with Adrian Burch and David Whittaker. These guys were responsible for doing Emmerdale, Heartbeat and The Royal Family, plus other projects for channels 4 and 5, but again I had to gain experience. David Whittaker was the ex-keyboard player for the Danse Society but unfortunately they couldn't help me to get on in the music industry as they didn't know what direction I was moving in. I did techno house and even trance music but when my mother passed away in 2015 I became very dark and reserved, then started to do gothic music.
I have worked with, and learned much from, Richard Lawrence, who was the sound technician and engineer with Depeche Mode and Jethro Tull
While I was at Old Chapel Studios I used to speak to the Kaiser Chiefs. I was the only person to rehearse my music when the Kaiser's were at Old Chapel Studios, no other bands were allowed in, apart from myself. It was a honour and privilege. I later bought from David Whittaker the Korg z1 synth which had belonged belonged to Gary Numan and Bill Curry.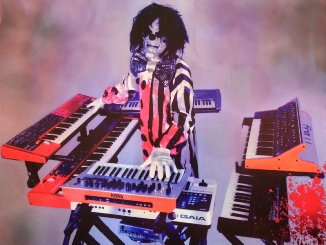 One of the unique aspects of my playing is that I play multi array of synths simultaneously. I don't use any computer or separate sampling system - and recordings are one-shot live multi-synths direct to recorder. These recordings are mixed and mastered by Mike Harris for TaM Entertainment.
More recently I've been working on music which is more movie soundtrack style - but still mainly with a dark feel. Videos have been made of some of these tracks which can be viewed in the video page. One of these videos - London Vampire - was screened at Monsterama Festival, Atlanta this year (2019) with special thanks to Pauline Peart for her help. Thanks, too, to Mike Harris at TaM Entertainment for producing London Vampire using movie clips from classic horror The Satanic Rites of Dracula, starring Christopher Lee and Peter Cushing, with Joanna Lumley, and also featured Pauline Peart.